It's never really about us!
We provide all aspects of meeting management, production, live direction, and event logistics to our family of clients, both national and global. All projects, large and small, receive the same personalized care from inception to completion.
PROVIDING EXCELLENT OUTCOMES FOR OUR CLIENTS AND THEIR AUDIENCE
Forte is selective in its client base, seeking partnerships with both clients and vendors who embody integrity, excellence, and industry expertise. Keeping our client's best interests at the heart of all decisions, we do our homework to accurately portray the philosophy, values, and intent personified in their company's vision. We perform our duties as an extension of our clients, encompassing their corporate culture and relinquishing the Forte identity to best serve their needs.
HEART OF A SERVANT

As a company, Forte is not driven by internal growth or profit. Our desire is to be of service to our clients and community. We strive to be servant leaders and are grateful to work alongside our associates, vendors, and clients.
EXPERIENCED PROBLEM SOLVERS
Knowing every element of an event makes us invaluable problem solvers. While you may not always need all of our services, you have our 70 years of combined experience at the ready to short-stop problems and provide solutions. Our skills include: Venue selection/contract review, negotiate and manage talent, speakers and entertainers, collaborate with chefs providing creative menus and maximizing F&B spend, design and fabricate scenic and décor elements, manage hotel and travel logistics, graphic design for presentation, print, or video, executive produce and live direct, employ leading-edge audio visual technology, live on-line and virtual broadcasts, research and write scripts, supervise and audit third party vendors, create web and mobile presence, registration services and data management, provide unique and creative meeting concepts … working with any and all facets of creating and producing live programs.
IT BENEFITS YOU
Meeting dollars are precious; maximizing value for the spend is a priority. We provide cost-cutting wisdom and budgetary accountability in all areas of our involvement. It is foundational in our work, that every step of the way, project costs are detailed and communicated. Grasping the big picture, we maximize impact while watching the bottom line. You benefit from experienced and aggressive price negotiations, while all parties are monitored by Forte to keep your best interests foremost.
CUSTOMIZED SUPPORT
We ensure that every element sends the right message … significant, clear and meaningful. We listen to your needs, achieving maximized outcomes through personalized attention and diligent planning. Forte provides expert assistance where you need it, eliminating unnecessary cost and diverted assets. Our experience is global and multi-faceted, optimizing the best resources for your project. Bottom line … we love the challenge of creative innovation, passionate planning, comprehensive support, and impeccable results!
LIVE ON-LINE
Virtual or live on-line events require the same attention to detail as in-person events.  Strategic focus, effective promotion, audience engagement, creative enhancement, and flawless execution all play a vital role in creating a memorable and successful event.
Strategic Focus – The "why" of your meeting.  Every element should align and profit the desired outcome.
Effective promotion – Creating expectations and commitment drives accountability and attendance.  This is a "live" event, only online.
Audience engagement – Interaction with attendees, breakouts, discussion groups, polls, Q&A, live chat, gaming, just a short list of tools to drive engagement.
Creative Enhancement – as online events become more common place, setting your event apart becomes paramount.  Understanding the vast array of technologies, how they interact, and when to creatively employ them, is crucial.
Seamless execution – put our vast broadcast experience to work.  We are well versed in the latest platforms and will tailor the production to your needs
PRODUCTION
Our goal is to function as a natural extension of your team, providing hands-on planning, detailed management and flawless technical execution. Our experience coupled with adaptability and flexibility, make us your trusted resource no matter the level of complexity. We leverage our world-wide industry relationships to guarantee the right team no matter the location.
LOGISTICS
All details matter … menus, schedules, gifts, ease of check-in, check-out, ground transportation, activities, free time, meeting time, room amenities, message content, speaker preparedness, meeting materials, surveys, recognition … all contribute to the impression and overall success of your program.
No two programs have the same needs, which means no "cookie-cutter" mentality. Every client receives services created expressly for their goals and budget. We also work with you to create tools to measure the effectiveness of your project as well as "follow-on programs" that intensify the impact of your meeting.

LIVE DIRECTION
We provide a comfort level to those we work closely with, and a calm demeanor that comes from years of live event production. We are not rattled by people or personalities, having worked for both The Tonight Show with Johnny Carson and the Mike Douglas Show, producing live television in Los Angeles with some of the biggest names in the entertainment business, as well as, top executives at Fortune 100 companies, and now producing events for our valued clients.
Innovation Day – video produced by Forte / Big Shoulders – Chicago
partnered with in-house creative team to conceptualize this enterprise-wide event from both a creative and technical aspect.
evaluated and maximized internal resources, enhanced by third-party expertise
one day interactive experience promoting creativity and camaraderie for our client's associates
live two-way video feeds originating from six different states.
Western Leadership Conference – video produced by Forte / Guy Bauer – Chicago
involved from inception shaping content and scheduling
four-day invitational conference focusing on health trends
provided all production elements including staging, scenic and live direction
researched, contracted, and managed multiple national speakers for this multi-location event
provided a variety of services: Meeting app, theme graphics, printed program (design & print), signage, social marketing, budget management and audit, video production, event registration, event photography.
Indiana Conference for Women – video produced by Forte / Media Op Inc – Indianapolis
all-encompassing management of this public event since 2016
managed registration, ticket sales and support, exhibitor coordination
created budget with continual audit, venue selection, management and contracting, food & beverage selection and oversight, booked & manage ground and air transportation
created thematics, graphic design, printed program, mobile app, website development, social media, marketing
responsible for av production, scenic, signage, script writing, video production, podcast
presenter research and management and contracting (up to 20 per event), volunteer coordination, surveys and polling, event review and assessment.
Corporate Town Hall – video produced by Multi-Media Communications – Scottsdale
executive produced this half-day event for over 2200 associates
staged in an NBA basketball arena, designing around inherent venue technical issues
featured oversized video walls and multi-location live streaming.
partnered with our client's internal team to provide a flawless, fun-filled event with a clear and precise message
Over 70 years of combined industry expertise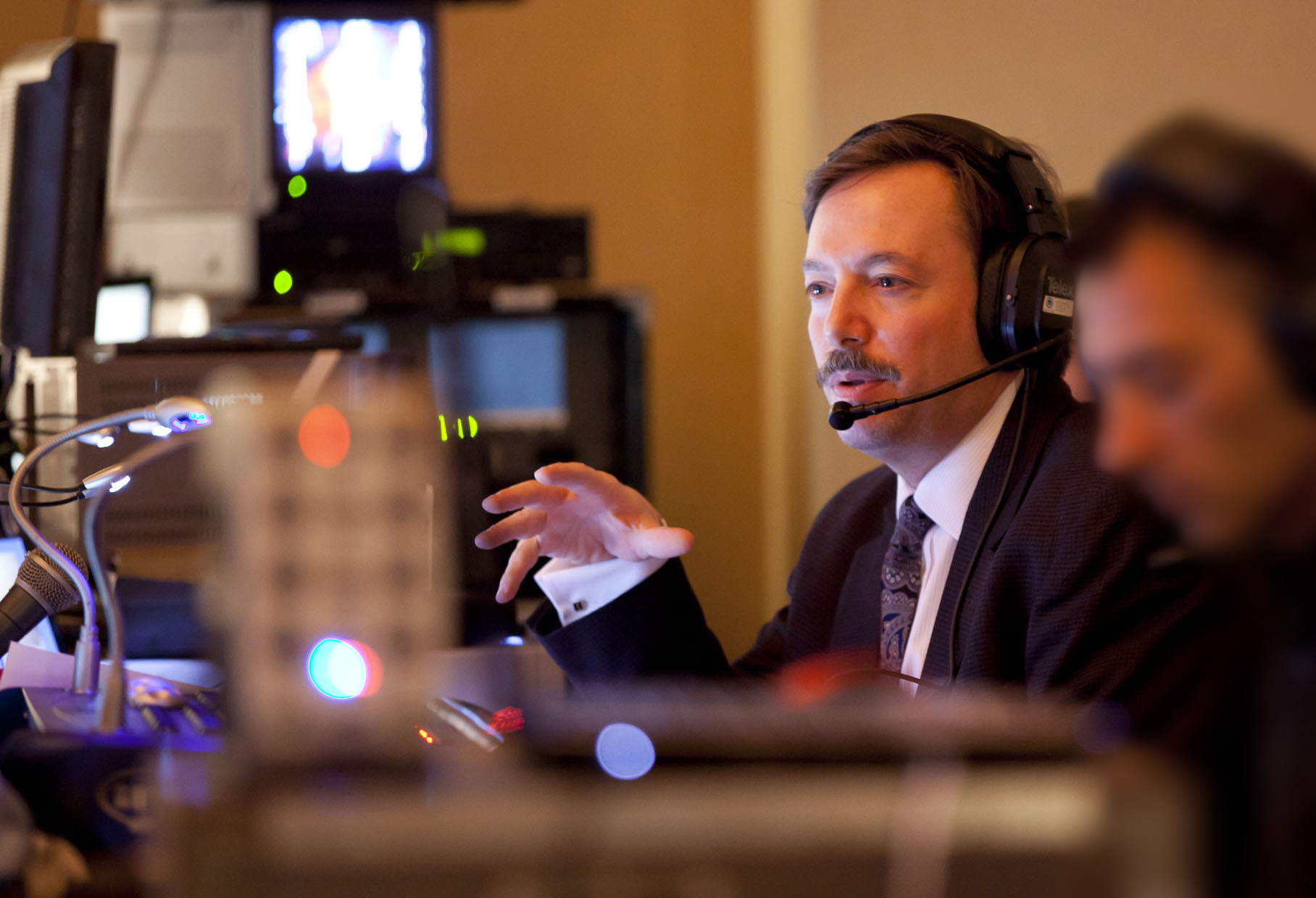 Michael provides creative and technical oversight on all projects. He has pursued his career over the past 30 years pushing the edges of creativity and technology. With a calm hand he has produced diverse events ranging from NASCAR and the NFL to intimate board meetings and Sunday worship service.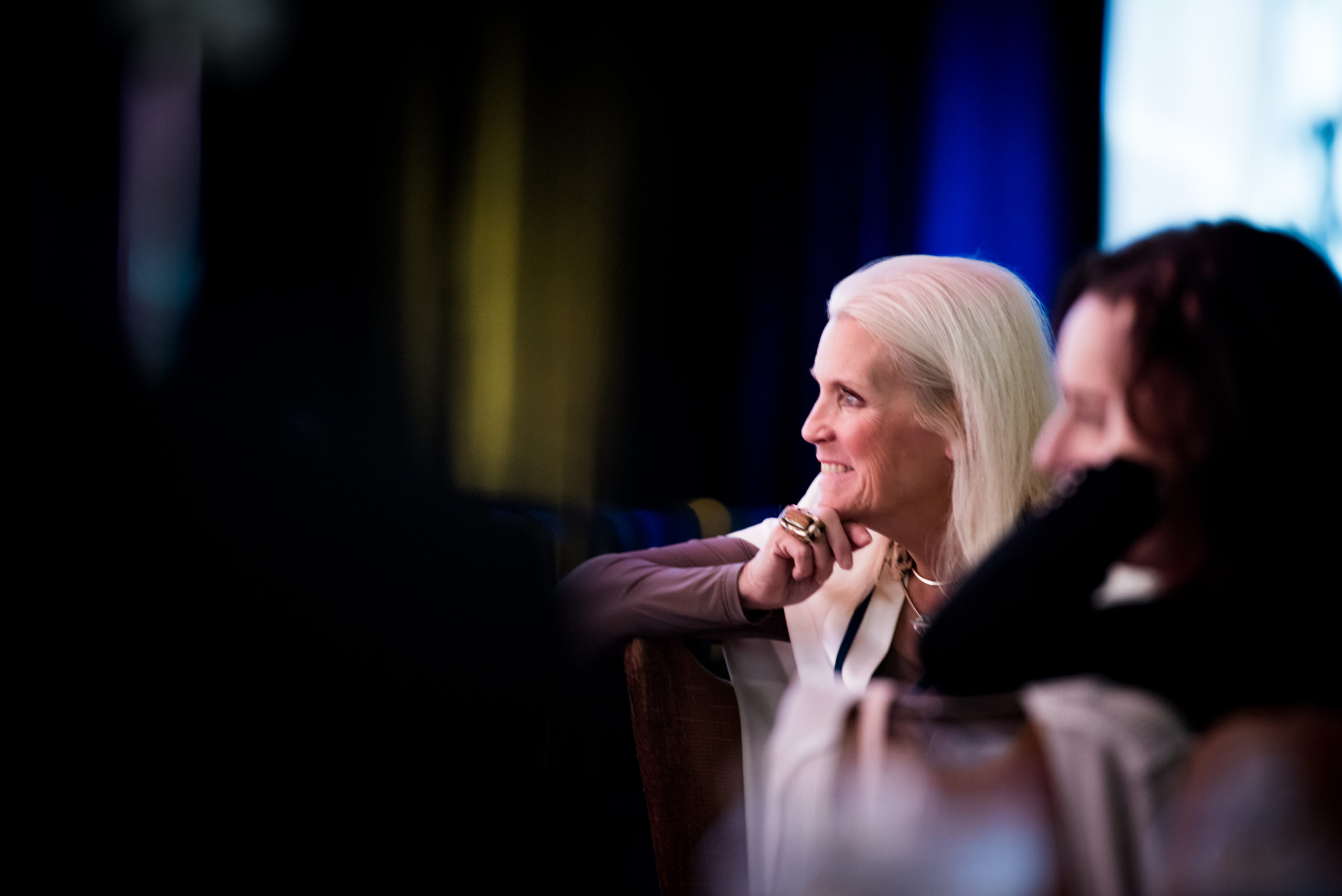 Deb's career has spanned the US. First on the East coast as a production coordinator at The Tonight Show with Johnny Carson and head talent booker for The Mike Douglas Show to producing sports and entertainment specials on the West coast. A lover of detail, Deb oversees content, production, and logistics, moving seamlessly between development and live production.